THE ROSKAM-BRUNOT FAMILY TODAY
Nicole Roskam-Brunot, her 4th generation sons and daughters-in-law, carry on this beautiful family passion for making fine St Emilion wines.
« Each vintage is a new melody with multiple variations » Nicole Roskam-Brunot » Nicole Roskam-Brunot
The Roskam-Brunot family expresses the best of its "savoir-faire" in each of its bottles, and offers wines celebrating the identity of their terroirs. As such, they practice a sustainable viticulture which allows to keep a healthy and balanced vineyard thanks to an independent adviser. Also, an evolution of the methods took place during the last decade in the continuity of the traditions for obtaining the best quality. If you go to Saint Emilion, the Roskam-Brunot family will be happy to receive you!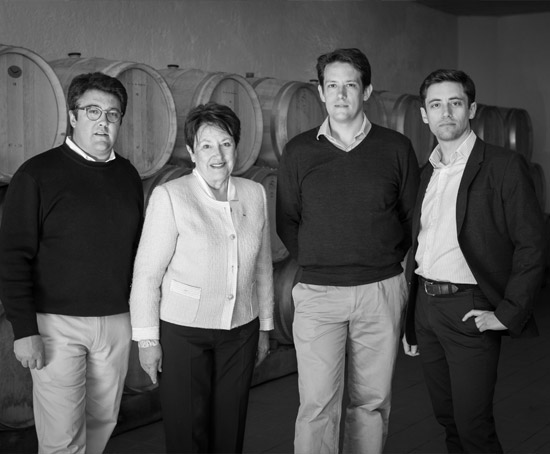 A FAMILY STORY & PASSION
Château Cantenac was built on a beautiful day in 1870, on the place called "Cantenac" ». Its origin dates back to Roman times, bearing various meanings such as that of "enchanted, enchanting" place. What pretty terms to describe the winery wines !
The property and its vineyard are located in the municipality of Saint-Emilion, 3.5 km west of the medieval city, on a promontory of gravel and clay. The "Bordeaux Guide and its Wines" (Ferêt Edition) mentions the property for the 1st time in its edition of 1898 to "the vanguard of the St Emilion hillsides" and as a "2nd Cru".
The Despujols family, who created the estate in 1870, comes from a family of Bordeaux vineyard owners and negociants. Later, from 1933 to 1937, Mr. Ernest Marache – native of the Nièvre – follows at the head of the estate, having as main activity a large fruit & vegetable trade in Paris.
Finally and since 1937, the Roskam-Brunot Family manages Château Cantenac.
It is Albert Brunot who makes the acquisition of Château Cantenac in 1937, following his father footsteps. Originally from Corrèze, Jean-Baptiste Brunot is the pioneer of the family to have invested in the wine trade, before becoming owner of Château l'Hermitage de Mazerat in 1922 (St-Emilion). Albert Brunot ensures the production and distribution of the estates wines, accompanied by his supporting wife Emilie. They later acquired Château Tour de Grenet in 1970 (Lussac). Their children Jean Baptiste Brunot and Nicole Roskam-Brunot have pursued this family passion since then.
Since 1997, it was Nicole Roskam-Brunot who energized and watched over Château Cantenac and Château Moulin de Grenet. It is the birth of new cuvées, the expansion of the vineyard, the pursuit of quality both in the vineyard and in the cellar, the development of wine tourism and the distribution of wines both in France and abroad, as well as her investment for its territory and appellation.
In this year 2020, marking 150 years of Château Cantenac, Nicole Roskam-Brunot hands over the reins to the 4th generation to continue writing this beautiful family story!
KEY DATES
2020 : 150th birthday of the estate !
2017 : 80th vintage of the family at Ch. Cantenac
2014 : Adrienne-Jennifer Roskam joins the team
2007 : Johan Roskam joins the team
2002 : Frans Roskam joins the team
2002 : Birth of the « Climat » cuvée
2000 : Birth of the « Antes » cuvee (produced in 2000 & 2001)
2000 : Birth of the « Sélection Madame » cuvée